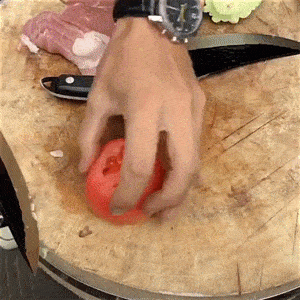 ENJOY A PERFECTLY CONTROLLED, HANDS ON CUTTING EXPERIENCE 
We love our customers so much that we want to ensure everyone feels special when they order from us. So we have included a FREE Genuine Leather Sheath with every order.
PERFECT TO CUT THROUGH ANY FOOD
Our Japan knives are designed to be an all-in-one cutlery tool. Each blade is sharpened to perfection which ensures smooth and easy cuts, regardless of texture.
PREMIUM QUALITY
We source only the finest materials in our effort to provide a premium shopping experience.
18/10 electroplated Japanese steel makes up the blade. Depending on your taste, beautiful Oak wood or Black Onyx is used to create the handle.
FIRST EVER HOLE CONTROL DESIGN
Our artisans are the first to ever create this unique patented hole control design. The brilliance came in the wanting of a more hands on experience. Now your hand is in actual contact of the blade as it slices through food.